Want to know what is happening on the golf course? Check in with us every month to see what James Houchen, our Superientendent, is working on!
What are we doing right now?
Top dressing on Tuesday, July 10th. "top dressing" is a light application of sand on our greens to help aerate and smooth the putting surfaces to ensure that our customers have the best facility conditions possible all year around.
Visit our Facebook page @sandcreekstation to view our "Course Talk" videos with Chris Tuohey, GM and James Houchen, Superintendent.
Summer Heat on Golf Courses
The heat is on! In Kansas, we all know how hot and humid the summers can be. But how does the heat affect your game? Read below: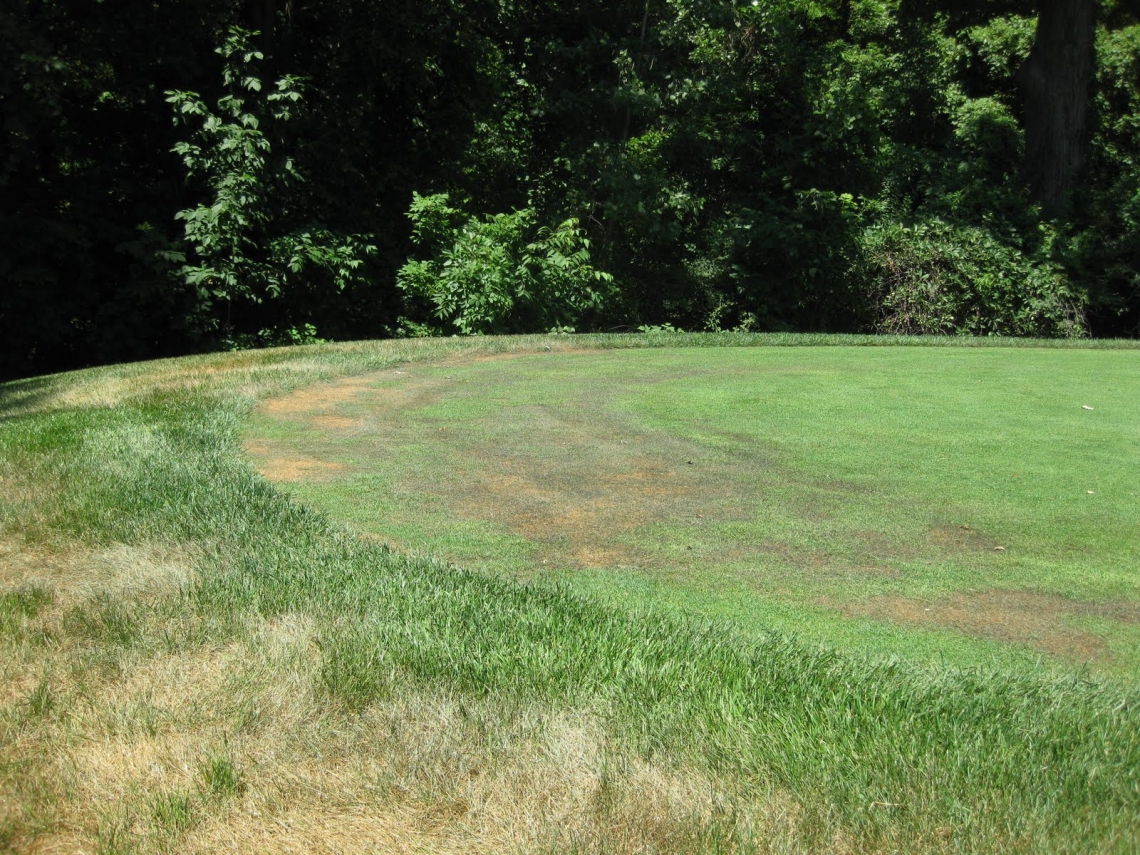 Ask a golf course superintendent about summer stress and he will probably tell you how high temperatures and humidity affect cool season grasses, especially golf course greens. He will explain how hard he works to watch the health of the turf, using infrared thermometers and soil moisture meters to monitor critical surface temperatures and soil moisture levels. But it's not only the turf that is in danger in the heat of the summer. Heat illness is a very serious human health risk.

What is heat illness? Heat illness is the body's reaction to extreme heat. As your body temperature rises, you have a natural ability to cool yourself by sending blood to the skin and sweating. As sweat evaporates, it cools your skin and your blood. If the body can't cool down, you can suffer from heat illness. This can be much more severe than most people realize. In fact, heat illness causes more deaths than any other weather-related condition. That's right - more than tornadoes, floods, lightning, or hypothermia.

If you're nursing bentgrass greens through a hot and stressful summer, you will take preventive measures, monitor for signs of stress or disease and be prepared to treat any symptoms that occur. The same is true with your crew. You need to understand the factors contributing to heat illness and take preventive measures, watch for symptoms, and quickly administer first aid to treat affected crew members.

Let's take a look at the contributing factors, symptoms, treatment and prevention of heat illness.

There are many factors that are favorable to heat stress - some are environmental and others are personal. Recognizing these environmental conditions will warn you to prepare for heat illness:
High temperatures and high humidity
Radiant heat from the sun or a hot work environment
Limited air movement
Other factors are more dependent on the person and may increase your likelihood of suffering from heat illness:
Your overall condition, and how hard you are exerting yourself
Good hydration is critical, especially if the weather is hot and dry
Some medicines decrease your ability to work in the heat and sun; if you are taking prescription medicines check with your doctor to see if they affect your ability to work
If you're not used to working in the heat you might have a stronger reaction

Symptoms
Heat Exhaustion is characterized by heavy sweating, moist clammy skin, normal body temperature and sometimes headaches, nausea or dizziness, and muscle cramps. It's important to know heat exhaustion can lead to heat stroke if it is not treated.

Heat stroke is the most severe form of heat illness and is often preceded by heat exhaustion. Other symptoms are hot, dry skin, high body temperature, confusion and fainting.

Prevention
While there are differences between heat exhaustion and heat stroke, one thing remains the same: prevention is easier than treatment. Anyone working in a hot environment can fall victim to heat illness. It's better to be safe than sorry - don't underestimate your environment! If you know you'll be working in high temperatures, here's what you can do to reduce your risk of heat illness:
Acclimate to conditions, build up to working in extreme temperatures.
Drink water or sports drinks before and during work. If you wait until you're thirsty to drink, you are already dehydrated.
Wear light colored and loose fitting clothing that has good moisture wicking properties, like cotton or some of the new dry-tech materials. Also wear a broad-brimmed hat provides shade and keeps your head cooler.
Wear sunscreen to not only prevent sunburn but lower your skin temperature.
If possible, reduce physical demands, or schedule the hardest work for the coolest part of the day.
On extremely hot days, take more breaks and rest in the shade. Give your body a chance to cool down.
Reduce alcohol and caffeinated drinks, as they both increase dehydration. Obviously, you are not drinking alcohol at work but even drinking alcohol the night before work can increase dehydration
. If you have any questions or want further knowledge on the subject, feel free to call us at 316-284-6161 and talk to James Houchen.